Via Submit Form:

JUST LIKE TO SAY THIS IS THE GREATEST CUE I HAVE EVER USED. I HAVE PLAYED POOL SINCE I WAS 7 AND I'M 27 RIGHT NOW. I HAVE WENT THROUGH MANY CUES, ( MEUCCI, JOSS, J.PECHAUER, MCDERMOTT & SCHON. JUST TO NAME A FEW) BUT AT LAST, I HAVE FOUND THE CUE FOR ME. WES HUNTER IS ONE OF THE GREATEST CUE MAKERS OUT THERE. NOT ONLY DOES HE DO A GREAT JOB ON EVERY CUE, BUT TO LOOK AT HIS CUES, YOU CAN TELL HE TAKE PRIDE IN EACH & EVERY CUE HE DOES. IT'S AN HONOR FOR ME TO PLAY WITH A WES HUNTER CUE.

SINCERELY ALWAYS,
JACOB CASHION
CEDAR CREEK, TEXAS
---

Via Submit Form:

I am the proud owner of a Hunter Classics Cue! I played in the Hunter Tour Stop in Arlington, TX and purchased tickets for the raffle of this cue....and low and behold became the LUCKY person to win! I won a Huebler in 1999 at the BCA, a Viking Cue in 1999 at the APA Nationals, and have shot for the last 4 years with a very nice, beautiful McDermott. I am happy with all of these cues, but I must say that your cue is the first one I have ever come home and shot with and adjusted to instantly! It is great, lighter and trimmer and hits the balls so solid. Julie S. asked me to use it to shoot in the Finals in Arlington, but I was afraid to change, but I wished I would have because it would've been perfect, I'm sure (next time I will). Luckily I triumphed anyway, thanks to the Good Lord above. Two triumphs in one day. A win and a wonderful, beautiful new Hunter Classics (very expensive Hunter Classics) Cue . THANK YOU FOR THE CUE WES HUNTER. Many thanks.

Gail Lave, Member of the Hunter Tour
Springfield, Missouri

---
From Neil Shank
via email
"I am really impressed with the hit of your cue. I bought one about 7 months ago. At first i liked the looks and the price. After seven months and hitting with other high priced cues I love my Hunter, I haven't found one that I think hits as good. I am interested in buying some joint protectors, one butt and two or three shafts. I have three shafts but I only carry two in a case. Thanks for the great cue!"

---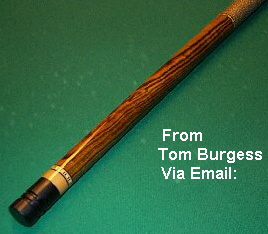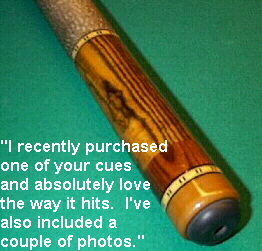 ---

From Richard Sauer:
Owner, The Billiard Factory
San Antonio, TX

"The main reason why I sell Hunter Classics Custom Cues is because of the consistency and quality of the hit. No matter how much money you spend, whether it be a few hundred
dollars, or a few thousand dollars, whether you get a steel joint or not, you still get the same feeling when you strike the ball."

---

From Dora Valdez:
WPBA Touring Pro

"I think the product is great because Wes Hunter thinks of the player first by making the cue functional first. And, then he makes you proud to be shooting because it looks so good!"

Dora Valdez is a proud Endorser of Hunter Classics Custom Cues!

---

E-mail from Jim and Katie Hendrickson:

"I was amazed to find you finally have a web page. It's to cool to see my Hunter Classic Custom Cue on your page (twice!). After Wes agreed to fix the ferrule on my cue, after I had damaged it myself, for free, I knew I could get rid of my other cues and stick with a company with true customer service and individuality of the Hunter Classics. So I went out and sold my Schon SP-25 and bought another Hunter Classic Cue from Richard.

Thanks for the great customer service and keep up the fine craftsmanship.

Sincerely,
Jim Hendrickson"

---

From Susan Dasher:

"I like Hunter Classics Cues because they have a great solid hit. And the warm wood that Wes Hunter uses makes the stick feel good in your hands!"

---

From Melanie Koger:

"I love playing with my Hunter Cue because it never misses!!! (HA HA HA) But, it really hits solid and true. Besides being absolutely gorgeous, it gives me the confidence I need to go for those tough shots."

---

From Sharon Townsend:

"There I was at the Texas State Open, playing with my $2,000 McDermott that I won in 1995 with only $20 in raffle tickets, when I saw the Hunter Classics display and the most beautiful
cue I have ever seen. It drew me across the room, and I knew I had to have it. I hit a few balls with it -- very timidly, since it was surely too gorgeous to really use, and then I negotiated with my husband, and then it was mine! It's the sweetest cue Wes Hunter ever made (in my opinion, of course.) Cindy could see that I was afraid to use it, so she invited me to play a few games with her. It is SOLID! My fear of its newness vanished as I discovered that with its perfect balance even I can find a little stroke! People ask about it all the time. To those want to buy it, I reply, "You interested in a McDermott?"

---

From David A. Olivares:

"In the many years I have been playing I have never had a cue with the "feel" a Hunter Classic has. I would never spend another penny on a cue unless it was a cue crafted by Wes Hunter because you can bet that the "feel" is consistent from one of his cues to the next."

---

From Shayla Neris:

"I own 3 cues. All of which are Hunter cues. Wes makes a good solid hitting cue. I was able to sit down with him one day, and tell him what I wanted my cue to look like. For a reasonable price, and in a reasonable amount of time, I was playing with that very same cue. It even looked better than I even dreamed of! People come up to me to look at my cue, and right away they know its a Hunter! I have a Hunter jump-cue, a Hunter sneaky pete that I break with, and my awesome Hunter cue with birds-eye maple, beautiful rings, and floating points that I play with. I will never play with any other type of cue again!"