Materials & Styles
Hunter Classics Custom Cues are just that: Custom made and very Classic. The cues are one of a kind and although some may be similar, they are never exactly alike.
These cues have a balance, hit and quality you won't believe until you play with one! Although design is an important feature when considering a custom cue, the hit is just as important a feature. Play with one, you won't be disappointed! (Read for yourself from satisfied customers.)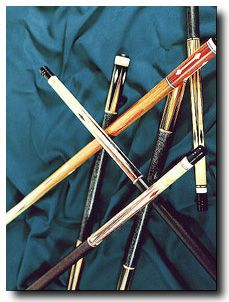 You will notice Wes utilizes both classic and southwestern designs. He can also translate an individual's ideas into a unique design that is both beautiful, and highly personal. Although Wes strives for artistic character in all his cues, play-ability is the utmost priority.
Hunter Classics Custom Cues are made one at a time, not mass produced. All of the cues are identifiable by the HC engraved on the butt (pic below) and the serial number near the logo.
With the exception of the exotic woods, these cues consist of all American made components. The strongest ferrule, joint, and butt material available today are used in the production of these cues. Wes makes all of the cue parts (except for a few metal parts) in his shop.
The standard shaft size is 13mm, the standard joint is a flat faced phenolic, and the standard length is fifty-eight inches. Changes can be made to these standards and other joints are available.